It's that time of year – the leaves are almost off the trees & it's time to think about ordering Christmas cards!
Last year, we got our Christmas cards from Shutterfly, and we loved the variety of cards to choose from. We settled on a photo Christmas card that gave us ample room to showcase our big year of transition.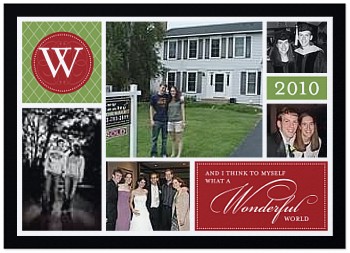 When Shutterfly contacted us again this year to see if we wanted to browse their collection of Holiday cards for our Christmas card this year, we were delighted!
Our recent fall hike provided us with just the photo… and we are excited to check out some of the new designs to what's going to become our Christmas card this year.
Maybe this one…
Or, this one – which gives us a chance to share a bit about our year.
Thanks to Shutterfly, we are able to offer an opportunity for you to win 25 holiday cards of your own! The product code is good for 25, 5x7 Flat or Folded cards of your choosing. Codes expire on Dec. 31, 2011, and code does not include taxes, or shipping & handling. And, three (3) of you will win!
To enter:
(1) Like "Finding Joy in My Kitchen" on Facebook.
(2) Leave a comment here telling me you like FJiMK on Facebook.
Yep. That's it! I'll be randomly choosing three winners on Tuesday, November 1, 2011. Comments will be accepted through 9 PM CST on Monday, October 31, 2011.
Fine Print: Shutterfly did provide me with free photocards, but all thoughts about their product are my own. If you are a blogger & want to join in on the fun – visit Shutterfly's blog here.